Wiccan Resources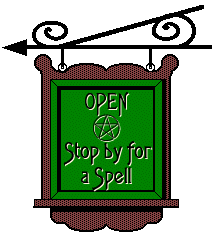 ---

Local Stores
Voyager's Dream
1306 West Hickory
Denton, TX 76102
(940)381-2769

Deep Woods Apothecary:Herb and Metaphysical Shoppe
13215 S. Copper St.
Arlington, TX
<817)261-6535

Oliver's Book and Things
Now offering tools for the Inner Being: Books, Music, Chimes, Incense
130 S.Main St.
Irving, TX 75060
(972)253-1299

Jackie's Stuff and Jackie's Stuff Too
Alternative health products and tools for the craft and magical arts
Vikon Village
2918 S. Jupiter #62
Garland, TX 75041

Believe in the magic...
Gaea's Jewels
Bud and Donetta Driscoll
P.O.Box 235
Point, TX 75472
and...
Trader's Village
Grand Prairie, TX #1332

Lightworkers' Supplies
5938 Curzon Ave.
Ft. Worth, TX
(817)732-4227
Hours: Mon-Sat. 10-6, Sun. 12-4

Scorpio Herbs
2922 Oaklawn Ave.
Dallas, TX 75219
(214)528-2148
---

To find the location of these shops, press here.

---

Catalogs
Sacred Rose(Free)
Supplies jewels,oils, stones, and talismans
Write to: Sacred Rose-Dept. LSCR
P.O.Box 331389
FW, TX 76163

Mysteria(Free)
Supplies crystals, books, incense, spell kits, stones, candles, herbs, jewelry, and talisman.
Write to: Mysteria
P.O.Box 1147-LCR
Arlington, TX 76004

Llewellyn Books(Free)
Supplies new age books
Write to: Llewellyn
P.O.Box 64383
St.Paul, MN 55164-0383
(612)219-1970 or
1-800-THE-MOON

Azura Green(Free)
Supplies books, tools, and jewelry.
Write to: Azure Green, Abyss Distribution
48 Chester Rd.
Chester, MA 01011-9735
(413)623-2155 or
Fax:(413)623-2156
E-mail: AbyssDist@aol.com
Web page: http://www.Azuregreen.com"

Pyramid Collection: Personal Growth and Exploration
Write to: Pyramid Collection
Allid Park
P.O.Box 3333
Chelmsford, MA 01824-0933
http://www.netplaza.com/pyramid
1-800-333-4220
Open 24hr/day, 7 days a week

Shop Online for Supplies!

Enchanted Willow Alchemy Shoppe
www.enchantedwillow.com

Trinket's Metaphysical Store
http://members.aol.com/cryfox

Back to the witches page...